April 27, 2021
Nationwide Disability Award Rates Inch Up in 2020
Approval rates for those seeking disability benefits in FY2020 improved across most of the program, according to data provided by the Social Security Administration (SSA). In response to a Freedom of Information (FOI) request by Allsup, the agency reported that decision rates favored both initial applicants and those appealing for benefits at the reconsideration and hearing levels in 2020.
Among initial applicants, 39% were awarded benefits in 2020, compared to 37% in 2019. Fourteen percent of claimants who received a decision at reconsideration were approved, one percent higher than the previous year. Of particular note, favorable decision rates at the hearing level jumped, from 45% in 2019 to 49% in 2020.
A number of factors, especially the pandemic and fewer claimants requesting benefits, likely influenced decision rates:
Delays in SSA-required Consultative Exams (CE) slowed the processing of claims, allowing those with the most severe conditions (Compassionate Allowances) to be prioritized and move through quickly compared to other claims.
Applications for SSDI benefits dropped substantially, in part due to the impact of Covid-19 in the last six months of the fiscal year, including SSA office closures and limited access to health care services.
The reconsideration appeal was fully reinstated across the country in 2020, which affected former workers seeking benefits in 10 states, including those with large populations such as New York, Pennsylvania and a portion of California. The added appeal level slowed the entry of tens of thousands of claimants who previously would have moved directly to the hearing level after their initial application was denied.
Claimants moved more quickly through the hearing level, as the SSA made substantial progress in reducing wait times and its inventory of claims. Hearing offices disposed of 219,149 claims in FY2020.
SSA Commissioner Andrew Saul recently appealed to the Biden Administration, calling out the impact of funding shortfalls on the agency and programs. While the President's proposed budget included a $1.3 billion increase for SSA, it fell $900 million short of the agency's previous request, affecting CEs for applicants and appellants and Continuing Disability Reviews among beneficiaries, according to Saul.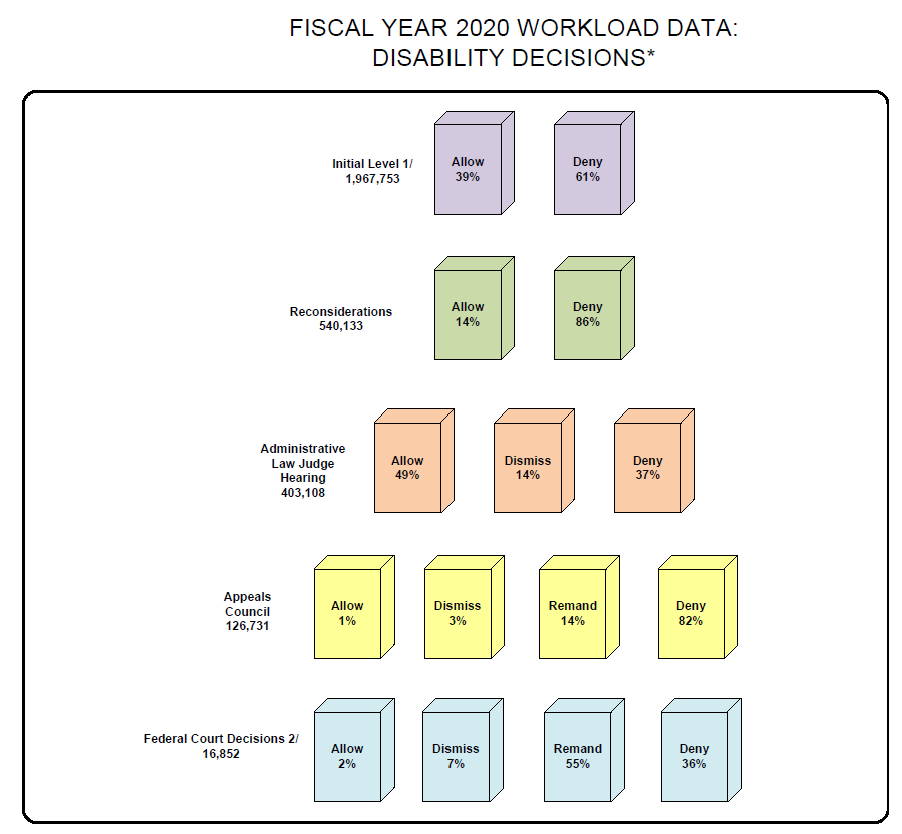 Subscribe to Stay in the Loop
Enter your email to be notified when a new blog is posted.
Thank you for subscribing.
Please enter a valid email.