October 13, 2021
Social Security Beneficiaries To Receive 5.9% COLA In 2022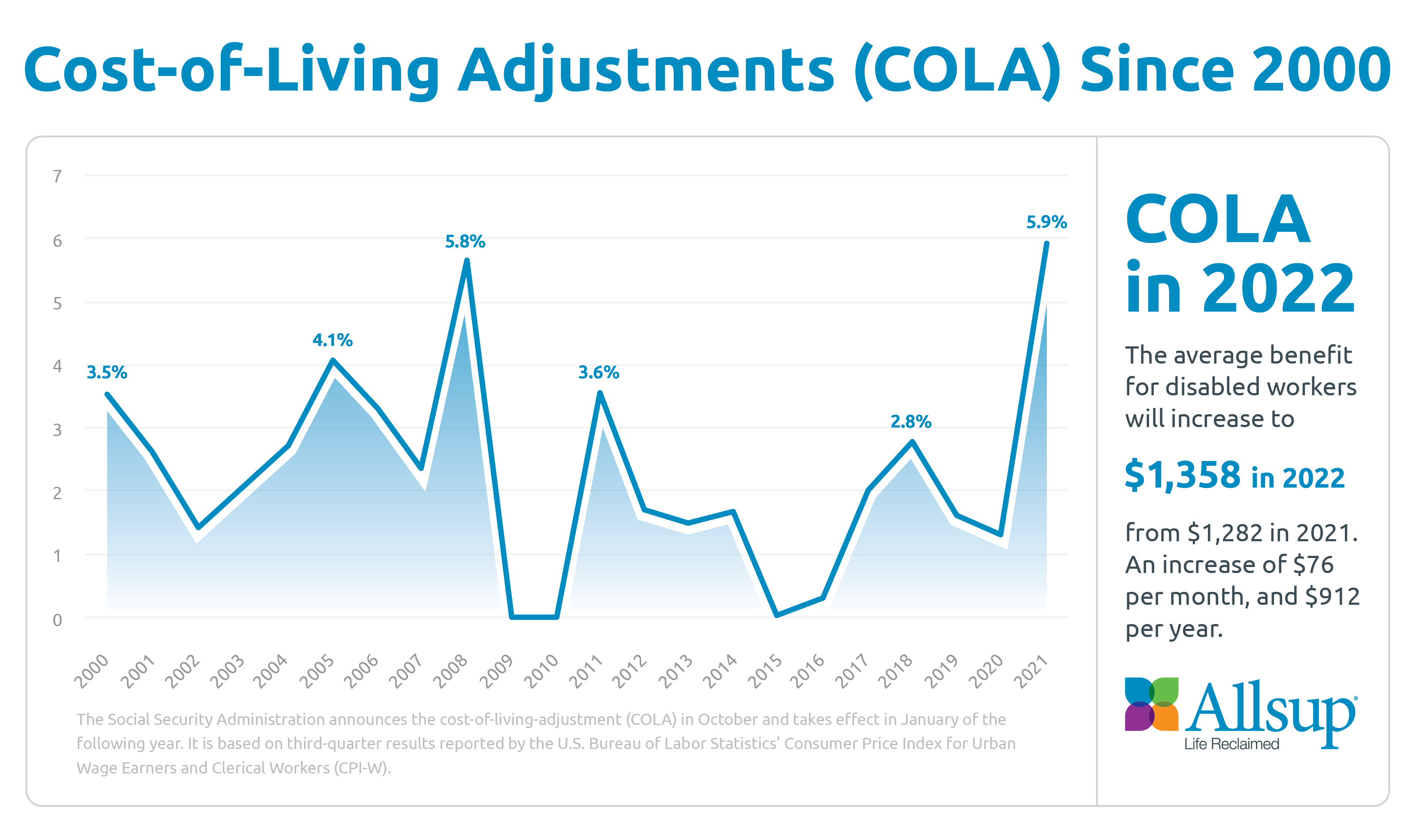 The Social Security Administration (SSA) today announced a 5.9% cost of living adjustment (COLA) for 2022. The increase is the highest in 39 years and nearly five times higher than the 1.3% increase enacted for 2021 benefits, and 1.6% for 2020 benefits.
The average monthly SSDI benefit will increase to $1,358 from $1,282, an increase of $76 per month, or $912 annually, according to SSA. The COLA is based on third-quarter results reported by the U.S. Bureau of Labor Statistics' Consumer Price Index for Urban Wage Earners and Clerical Workers (CPI-W).
The amount of earnings subject to Social Security tax, or taxable maximum, will increase to $147,000 from $142,800.
Other amounts will change, including:
Substantial gainful activity (SGA). The monthly threshold for non-blind individuals will increase to $1,350 per month from $1,310 per month. For blind workers, it will increase to $2,260 per month from $2,190.
Quarters of coverage. Earnings required for a quarter of coverage increase to $1,510 from $1,470. This refers to the amount of earnings required, per quarter, to receive insured status for retirement and disability benefits.
Trial Work Period (TWP). The monthly TWP threshold increases to $970 per month from $940 per month.
The increase takes effect in January 2022 for 65 million Social Security beneficiaries. The Fact Sheet is posted on SSA.gov. Click here for a history of COLAs since 1975.  
Subscribe to Stay in the Loop
Enter your email to be notified when a new blog is posted.
Thank you for subscribing.
Please enter a valid email.